Musculoskeletal Ultrasound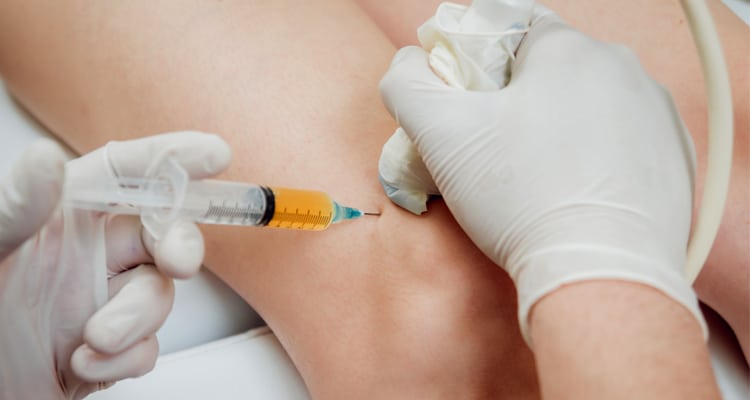 Musculoskeletal Ultrasounds Evaluations & Ultrasound Guided Injections | San Francisco, CA
Why guess when you can see?! The ability to see your injury in real time helps create a treatment plan fast and efficiently. Using image guidance for injections allows for precise placement and faster recovery.
We use musculoskeletal ultrasound for guided injections of biologics and corticosteroids for all peripheral joints, around nerves, cysts, and peritendinous structures. These benefit patients in lowering the cost of procedures, involving no radiation/contrast, identifying nerves & arteries accurately, and having better accuracy than palpation-guided injections.
We also use musculoskeletal ultrasound as an in-office tool for evaluation of bone, nerves, and soft tissues including tendons, muscles, ligaments, and cysts. These evaluations can help dynamically identify problems with movement. This allows for real time visualization and diagnosis often avoiding costly MRI imaging and repeat office visits. These benefit patients in lowering the cost of care and avoiding length of time to diagnosis.
Offering a Variety of Therapeutic Injections
We offer diagnostic and/or therapeutic injections for the hip, shoulder, wrist, hand, foot, ankle, and elbow. We offer injections for tendon sheath/peritendinous areas and a variety of soft tissue injections. These include calcific tendonitis barbotage, iliopsoas tendon, biceps tendon, wrist/hand tendons, foot/ankle tendons, hamstring tendons, carpal tunnel, cubital tunnel, and other similar conditions. We identify fluid with or without aspiration. These can include Baker's cyst, ganglion cyst, joint effusions, and synovitis. We offer dynamic evaluations of popping or snapping musculoskeletal structures. We provide dynamic evaluations of tendons.
Anti-Inflammatory Corticosteroid Injections
In addition to biologic injections, we offer corticosteroid injections for arthritis, impingement, certain tendon related pains, adhesive capsulitis, plantar fasciitis, and calcific tendonitis. Corticosteroids have been used as a staple in orthopedics for many decades. Their strong anti-inflammatory properties aid in treatment.
At Post Street Orthopaedics and Sports Medicine, our trained and experienced professionals will know how to properly treat and give you the care you need. Whether it's your first visit or routine visit, we are here to help you. Give us a call today, we offer our services to San Francisco, CA and nearby areas.
I will come up with a diagnosis and treatment plan during your first appointment.